On Thursday 16th June 2016, Downtown Lancashire in Business celebrated the best in the business at the annual Lancashire Business Awards.
Rob presented Forbes solicitors with best legal practice of the year award at glittering Downtown in Business awards. The awards were a great excuse for many hard working individuals and businesses to let their hair down and enjoy a night of celebration.
Rob represented the Cotton Court team and said "Once again a great awards night put together by Downtown in Business at the Dungenhalgh hotel"

Awards given away on the night ranged from 'Networker of the year' to 'Business Personality of the Year'.
Frank McKenna, chief executive at Downtown in Business, said: "Congratulations to all the winners and nominees for this year's awards. It is always fantastic to celebrate the hard working companies in Lancashire each year and see the level of support they are able to gain from their peers and their customers."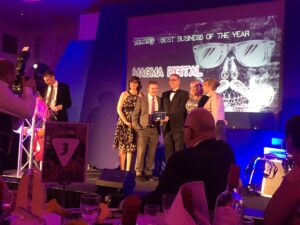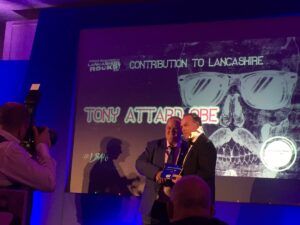 The winners were:
Male Networker of the Year – Daniel Rich, Barton Grange
Female Networker of the Year – Katie Beckham, The Write Angle
Best Employer of the Year – Denwa
Best Employee of the Year – Rebecca Kay
Best Newcomer of the Year – Eat My Logo
Best PR & Marketing Agency of the Year – The Write Angle
Best Digital Agency of the Year – Blush Digital
Best Social Media Presence of the Year – Marketing Lancashire
Best Legal Company of the Year – Forbes
Best Accountancy Firm of the Year – Beever and Struthers
Best Business Bank of the Year – NatWest
Best Property Business of the Year – Barnfield Construction
Best Recruitment Company of the Year – Laura Hartley Recruitment
Best Customer Focussed Business of the Year – Burnley FC
Best Hospitality Venue of the Year – The Emporium
Best Hotel of the Year – Tickled Trout
Best Business Enabler – Choose Chorley
Best Business of the Year – Magma Digital
Chief Executive Award – Marmalade Toast
Business Personality of the Year – Michael Conlon
Contribution to Lancashire – Tony Attard OBE