Lancashire Apprenticeship Ambassador network is a country-wide drive to increase training and employment opportunities for young people and improve their skills. It was also established to allow businesses and employees a chance to see how beneficial it can be for a company to have an apprentice in the workplace. Lancashire Apprenticeship Ambassadors are all either current or former apprentice who was to talk about the highlights and benefits of taking part in the apprenticeship programme and help them find out more information. The ambassadors visit schools and careers fairs to speak to teachers, parents and children to encourage them to either take on or become apprentices.
I have chosen to become a Lancashire Apprentice Ambassador because then I can advise young people to consider an apprenticeship after school instead of college. Also, that apprenticeship's are for anyone. I believe this network will allow me to meet a wide range of people, whether that be fellow ambassadors or people when out and about visiting schools and career fairs. Also, benefit me on how other businesses work and what each individual business entails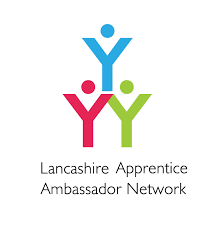 I decided to do an
apprenticeship so I can expand my skills in the workplace whilst still learn and stay in education. My role is varied and a typical workday involves me answering calls for either customer's within the building when they're otherwise engaged; answering calls for virtual offices which I then email to inform them so they can get back in touch. It also involves setting up and organising conferences which are held within the building on a daily basis; whether that be groups of 4 or 104.
On a daily basis, I also handle all the mail for our virtual office customers, office and desk clients. As well as, making sure all conference rooms are presentable and clean throughout the day and making sure our clients' needs are met.
In the future, I would like to be in a job which I enjoy also one which will broaden my horizon for the forthcoming years. I would also like to say that I manage all virtual office customers and enquiries and that I would like to build my way up to a managerial role.