Happy New Year! We hope you all had a great Christmas break, we are full steam ahead this month, and are looking forward to new projects and opportunities for 2014.At the beginning of a new year, many of us will have ideas about what we want to do better personally, in the year ahead. Making New Year's resolutions for your business is just as important as setting personal goals for yourself.  Have you thought about what your goals and intentions for 2014.We took part in Lancashire Business View's 'Looking Ahead' feature.  Take a look below at the interview with Rob outlining some of our goals for 2014: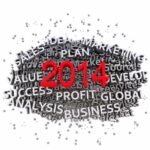 What are the opportunities for your business over the next year?We're keen to get more involved with training and development and have already started building partnerships with providers to be able to deliver a wide range of courses for business of all sizes. Courses so far range from social media and online reputation to improving your business by applying NLP and CBT techniques and we are always looking for other suitable courses to add to the catalogue. Cotton Court isn't just a conference and training space or a collection of offices it is gradually becoming home to some of the brightest, up-and-coming businesses in the area, further positioning ourselves as a focal point of Preston's business community. Better and deeper relationships with these businesses means growth for the Cotton Court brand.
What is the outlook for your sector for 2014?Well I see 'our' sector as being business more generally rather than simply being about rental space and conferencing. Cotton Court's success is in line with the success of our clients and going by some of the stories coming out of the building things are looking good for 2014. 
What will your business do differently in 2014?Continue to work on our green policy and streamline some of our processes. The team here have worked hard to reduce the amount of paper, water and electricity we use, and in fact we achieved a bronze. We want to continue on this through 2014 and look to make a few more changes.
If you were Chancellor, what would be your New Year's Resolution?To increase support programmes for start-up businesses, helping SMEs develop and become better equipped for growth. Investment in small business with growth potential is a sure-fire way to reduce unemployment through job creation. 
We would like to thank you all for your support over the last year and hope you all have a prosperous year ahead.