On Monday 16th December Amy, Jon and Abbie delivered all the presents donated by our clients at the Christmas Party to Derian House.
We were given a tour of the facilities by Jill Kirkam, Community Fundraiser, and learned in more detail about the services and Care Derian House offer to children, young people and their families.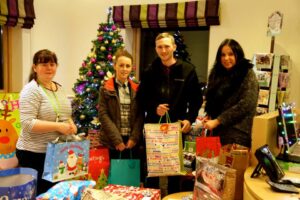 Derian House is renowned throughout the region as being at the forefront of children's palliative and respite care.
Families who have a child with a life shortening condition can choose from a range of care and support services to meet their individual needs which include; short planned breaks in Derian House, Hospice at Home, sibling support group, end of life care and support at home, or in Derian House, and bereavement support after the death of a child.
They currently support more than 300 families who have a child with a life shortening illness, and a further 200 who are receiving bereavement support. For them Derian House is the means by which they deal with the highs and lows of their child's illness and its aftermath.
Roya Armstrong from Derian House said;
'We are truly overwhelmed by all the gifts we received from Cotton Court and are extremely grateful to all those who donated. It's people like these who keep the hospice going as we rely heavily on public donations here at Derian House. The presents have been distributed amongst the children already and have gone down an absolute storm!'
We would like to wish all the staff, children and young people at Derian House a very merry Christmas and a Happy New Year from everyone at Cotton Court!