Need help Shredding those lockdown pounds…And with gyms still out of bounds
Sue started doing online fitness classes as soon as the gyms closed back in March 2020. She was attending the gym 4 times a week and like many of us, thought to herself what am I going to do? Because of her background in fitness, she decided to start something online so that she could help others as well as herself. 
She created Team625, an online fitness class program. These classes are a form of interval training,  they are high energy a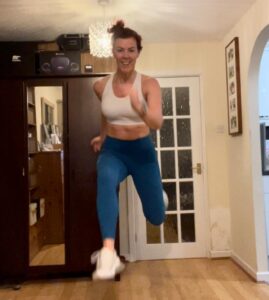 nd delivered through the online platform Zoom. Sue is a qualified fitness and dance instructor and most recently a PN1 Nutrition Coach. The classes are live at 6.25am every Monday, Wednesday and Friday and also ask 7.45 on Saturdays with an added 10min abdominal section. Team625 has an extremely supportive and friendly network of people, plus a closed Facebook group that offers pre-recorded classes, nutritional advice and weekly live sessions with Sue. With over 50 members, already it's proving to be a massive success to people and has become part of their lifestyle now.
As someone who suffered from mental health, Sue knew how much lockdown was likely to affect people. Team625 has helped clients not only in a physical capacity, but also emotionally and mentally. Because it's first thing in the morning it really sets you up for the day and by 7am you have done your daily exercise. Knowing that puts you in such a positive mindset for the rest of the day. All of the exercises can be modified and you can still get results. Small steps are better than none.
If you are interested in joining Team625, contact Sue on 07866 770891 you will receive a FREE 2 week trial.
Action precedes motivation. DO IT!!
Here's what one clients made up
Need help Shredding those lockdown pounds?
And with gyms still out of bounds, 
From the privacy of your own front room, 
Join this great team via Zoom!