Preston based group of companies hires new Interim Marketing Director to support local growth  
The Preston based group that operates Cotton Court Business Centre and operates a number of leisure, tech and property businesses, has appointed an Interim Marketing Director on a 6-month agreement to support a period of growth & development.  
Jack Barron, who is originally from Preston, joins the group after a number of years living and working in Manchester. The 30-year-old initially moved to Manchester to pursue a career within a city centre media agency, working his way to becoming a director in the company, and achieving his Masters from Manchester Metropolitan University.  He broke away last year to set up his own consultancy business, specialising in helping small to medium sized businesses, a business he still operates across Lancashire & Greater Manchester. 
"I couldn't be happier taking on this role with the Cotton Court Group. There are a wide variety of businesses within the portfolio for me to get stuck into and do good work for, but I'm especially looking forward to working on the Cotton Court Business Centre side of things. My passion is helping SME's, which aligns perfectly with what Cotton Court have been doing for many years." The former UCLan student said.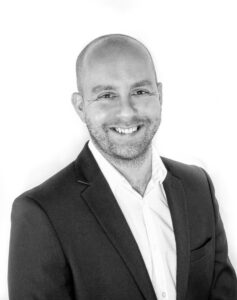 "There's loads going on at Cotton Court in the very near future with the pods being built, expansion of our service offering, the free events and resources we're running for small businesses and a number of things that haven't been announced yet. It's not just a period of growth for Cotton Court, it's a period of growth for Preston. You only have to look at the recent investment in the City Centre and Queens retail park. I'm glad to be back and to be a part of it." He continued. 
The Cotton Pods are a new development at the Church Street site, announced in September of this year. Utilising specially adapted shipping containers to increase the overall capacity of the site, they're expected to be in operation early in the new year.  
Managing Director Robert Binns comments "Since the conversion of Cotton Court into a business centre, we've been the catalyst for a significant number of start-up businesses. We don't intend to stop doing that any time soon, but in order for us to help more businesses we need more capacity. That's what these pods will offer. As well as being responsible for helping us with our growth, one of Jack's responsibilities will be to help steer the growth of our customers and other local businesses. Having worked with him before over the years, I'm confident we've got the right man for that job." 
Big media hubs such as Manchester and London have historically been responsible for taking much of the young talent out of the smaller towns and cities such as Preston. The recent development and investment into Preston could prove to be a turning point for retaining & attracting that talent. The Cotton Court Group aims to build on that more by funneling new Manchester based talent through its new Media City office on Salford Quays, and back towards its other businesses in Preston. 
"It's very positive news to learn about Cotton Court's expansion plans.  As a city we've already seen the business centre grow and develop to support many fledgling businesses and the wider city community.  The organisation has actively embraced city life and are exemplary in their corporate social responsibility strategy.  2018 will be an exciting year for the city and it's great that businesses like Cotton Court are pushing from the front to add value to Preston's city centre" said Mark Whittle, Manager at Preston Business Improvement District. 
Already in post, Jack has started work on a number of important projects. "I've really hit the ground running thanks to the support of Robert and the team. I think it's especially nice and certainly reflective of the group ethos, that my first project was working on the Barnardo's Christmas Toy Appeal and the next one was involvement in a free event for local entrepreneurs and business owners. I'm looking forward to working across the group portfolio but especially working with local small businesses to help them develop & grow alongside the rest of the City". 
Cotton Court is an old 19th Century Mill, providing incubation for start-ups and services for small to medium sized businesses. It provides physical office space, hot desks and conference space, as well as virtual & administrative services. It acts as the flagship business and headquarters for the Cotton Court Services group, which boasts a portfolio of leisure, property, tech and social enterprise operations.