In mid-March West Lancs Scouts learnt that UK Youth Commissioner Hannah Kentish would be visiting the area on Wednesday 1st April & wanted to meet some young people in from the county.
Through lots of hard and efficient work in a short space of time the county planned an event that meant over 50 young people from around the county, with every district represented, met at County Hall in Preston for an event inspired by national event #YouShape, which we called #WLShape.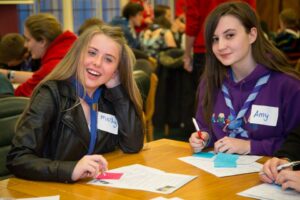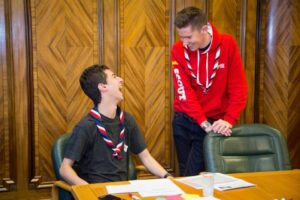 In one of their four key policies in our Strategic Plan, youth shaped scouting is an important priority, and therefore #WLShape was a great opportunity. It was an opportunity for young people from all around West Lancs to come together and share their views and ideas about scouting. It was an opportunity too for us as a County to get a snapshot of what young people think about scouting in West Lancs and to hear their ideas on what we hope to do in the next few years, whilst shaping our plans. This means our plans for youth shaped scouting are youth shaped!
#WLShape got everyone excited about youth shaped scouting. The enthusiasm of the young people during and after the event was incredible. Now, through our Vision 2018 Youth Shaped plan completed in early May, through lessons learnt from experiences and by listening to young people in our county, we must maintain enthusiasm and continue to build on what we've started to make great things happen West Lancs. This is to enhance the scouting experience of our young people, and to ensure we can give Scouts in our county the very best start in life that they deserve.
Please find the findings here: WLShape Report