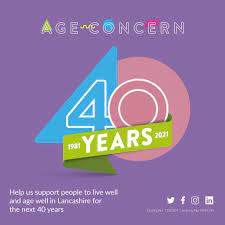 This year marks Age Concern's 40th anniversary and Cotton Court are delighted to join their patron community. Age Concern are reaching out to the Lancashire business community in search of 40 patrons from Lancashire-based responsible businesses to join their Ruby Club and become Age Concern Central Lancashire charity Patrons. 
They are creating their own ethical revolution of businesses who want to do their bit to support a worthy local charity whilst at the same time, creating a network of influential business movers and shakers from all business sectors.  
Cotton Court joins some of these Lancashire businesses as part of the patron community: ENW Ltd, Cadent Gas, United utilities, Preston's College, Code Galaxy, Stone Create, Pure Energy, to name but a few.
Did you know that Age Concern 
      Is a local Lancashire based charity that celebrates its 40th birthday in 2021

      Is  fully independent and not part of a bigger national such as Age UK

        Provides dementia care and support alongside living well services and a range of other interventions to help people live well and age well

        Is multi-award winning, have won the BIBAs Business Heroes Award 2020 and the Lancashire Business View Award at the Lancashire Business View Red Rose Awards 2020

        Works with a range of partners within the private sector in regards to how businesses can adopt ethical and purposefully driven best practice for the good of people and planet – see Patrons Pack attached

        Has a workforce including 65FTEs and 350 volunteers

        Operates nine charity shops and various online trading platforms including website, eBay, Facebook, easy fundraising and click and collect

        Supported annually by various fundraising initiatives, large and small, and through people donating to our shops.  The money made via fundraising and trading is used to support people within local communities in Lancashire
 To find out more about becoming a patron, visit their website: