Who would have thought back on March 16th, when the country shut down, that we would still be experiencing lock down measures nearly a year on?
Whilst some people are perfectly comfortable working from home, there is an equal amount of people who are aching for a level of normality to return. To book a holiday and know it won't be cancelled; to decide what takeaway you are want ; even just going for a drink with your mates in the pub.
It can be really difficult sometimes to know if your staff are struggling. Some of the common themes we've come across whilst running our YOLO Wellbeing Health and Wellbeing sessions to home workers, is that often people feel guilty taking time away from their desk during the day; if they miss a work call, they think they may be perceived as slacking. Another challenge is differentiating work and home life. This is particularly evident where employees are working at the kitchen table or in their living space; rather than a dedicated home office space.
Isolation is another key challenge; not knowing what others in the team, or across the business, might be up to. The social and interactive element of our Health and Wellbeing sessions has been incredibly welcome and popular amongst participants.
As an employer there are things you can do, that won't cost you anything, but will help your employees manage their wellbeing whilst at home.
Here are our top tips:
Monitor how your team are feeling by asking them to let you know what level of 'fine' they're feeling when you speak to them. For example, you might ask them 'how are you feeling today?', Stock response is usually 'I'm fine.' If you follow up by asking what level of fine, you can gauge their mood without the question feeling too intrusive.
Encourage your team to take their breaks during the day. You can do this by asking them how they spend their lunch, do they go out for fresh air; turn on the TV for 30mins; do some of the chores they wouldn't be able to do it they were in the office?
Organise non-work team calls, you could even do these at lunchtime to ensure your teams are taking their breaks. A client I recently worked with held a wellbeing cafe for employees to drop into a couple of times a week to share stories and support one another.
Encourage your teams to have good 'end-of-day' routines that enable them to switch off and create a differentiation between work and home life.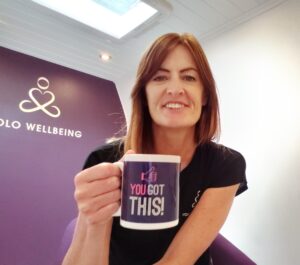 If you are interested to know more about the Health and Wellbeing sessions we provide to home workers please contact us on 01772283139 or email cbritton@yolowellbeing.co.uk for more information.